Posted By Debbie on January 23, 2017
Is their anything better than holding a puppy, or watching a litter of puppies play? Maybe so, but puppies are certainly near the top of my list for the joy they bring into our lives. Even at 2:00 in the morning– they are hard to resist!
Poppy's babies, sired by Sampson, will be 4 weeks old this coming Tuesday. They are doing fantastic. Poppy has been a good mother, and it shows in her big, pretty puppies. To begin the weaning process, the puppies have been introduced to our "puppy slop" formula– and they love it! I use Goat A Lac mixed with a little warm chicken broth and pulverized chicken and a little thawed BilJac. Next we will replace the BilJac with soaked Victor dry puppy food. We make the changes gradually to avoid tummy trouble.  I always use a pinch of Dr Goodpet Optimum Growth to get them going too. It seems to work well. Of course Poppy gets a super diet of high protein food with calcium rich supplements and vitamins. I know it makes a difference in maintaining her in good condition to feed her demanding pups.
The puppies are becoming more active playing with each other and interacting with us. I haven't noticed any obvious bullies. The bigger puppies are Maxi, Patton and Winston, but the others are not far behind. Even little Celeste is holding her own. It's a relief to see that Celeste can now get all the food she wants from the puppy pan in case the bigger puppies knocked her off Poppy's milk bar before she was full. 
I love watching the puppies. I try to observe each of them to make mental notes of how they are developing. Even though I try to be impartial, my eyes are drawn to certain puppies. We will see if my early picks stay the same in the weeks to come.

I can tell the puppies apart when I pick them up and look at them, but I'm still having some trouble differentiating some of them in pictures. Audie and Doss are especially hard to tell apart on pictures. Doss outweighs Audie by a few ounces which is something you can't tell on pictures. I identified them the best I could. Click on the pictures for a bigger view.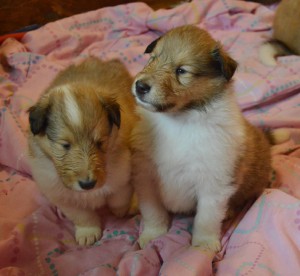 1 21 17 Harper left Patton right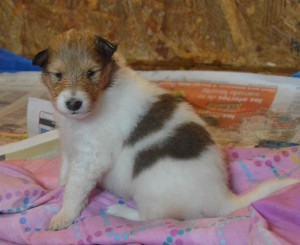 *************************************************************************************
PS- We went to Denton to see Judy Gorham's new collie babies out of her pretty girl- Ch Avalar Tairis Radiant, sired by her Southland boy- Mike. Juliette is Poppy's half sister. She is out of Bridgitte's first litter sired by Ch Cherann's No Stranger To Luv. Juliette has 8 puppies- 5 tricolor boys, one tricolor girl, one sable boy, and one sable girl. They a few days younger than Poppy's puppies and are so cute! Here are some snapshots of them I snapped quickly with my phone.
Juliette's puppies are adorable! I love the little tri with black legs and white toes!

********************************************************************************