Posted By Debbie on December 6, 2017
Life is what happens while you are busy making other plans.  (John Lennon) – Lennon hit on a profound truth here – with its roots in the Bible.
I'm busy. You're busy. We are all running around planning for this and that. Hopefully though, we remember to enjoy the many moments that make up our lives. Hopefully we also remember to live in the NOW.
With my partner of 37 years spending so much time in the hospital, perilously ill at times, I entered a new level of BUSY. It has been dizzying to spend as much time as possible with Mike, and to keep up with his care and condition while still working full time.
What I see clearly now is that all of the things around me are temporary. The dust bunnies, the dirty laundry, and the overgrown hedges can all wait. Expressing love to those around me is what can't wait.
Thank you to my friends that have been so generous with their kind words, prayers, and shoulders to cry on.  You are a Godsend, and I love you.
I appreciate my son and daughter and their significant others, as well as my brother who have been so helpful and supportive while Mike has been sick. You are all such a blessing. I love you all so much!
My beautiful collies don't know why I have had less time to spend with them, but they are eager, wonderful friends always there to show their love and lift my spirits. Collies have enriched my life as far back as I can remember. Hopefully, we will have lots of playtime together by Christmas!
Most of all I want to express my love to Mike, my longtime partner on this journey together. Our lives have been a rollercoaster ride- honestly never a dull moment. I doubt we will ever have a dull moment together, but I do hope for some peaceful ones to enjoy as we settle into our retirement years. I want to thank you, Mike, for giving me a life of full-tilt love.
Here are some pictures of Mike with our collies. He knew how much I loved collies so he embraced them too.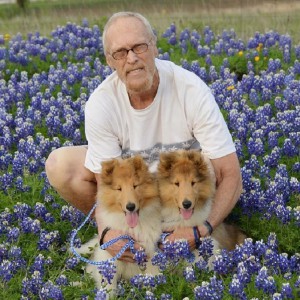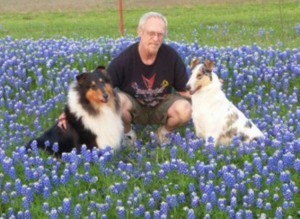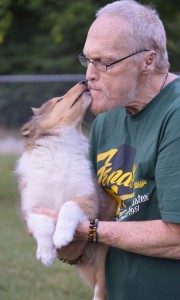 I will be retired by Christmas, after working over 40 years, and Mike should be home before Christmas. It should be one of the happiest Christmas times ever.
 By mid- January, I hope Tracer will bless us with some beautiful, brown collie babies. There is nothing more fun than collie babies!