Posted By Debbie on July 10, 2018
I've been really sick since  July 5, 2018- so my blog and email responses have been delayed.  I'm sorry for not keeping things current, but this gastrointestinal flu (?) is the worst illness I can personally ever remember dealing with. My husband, Mike, still has many health issues, so it is up to me to take care of these beautiful Poppy/ Samson puppies.
My daughter had a litter from our girl Melody sired by Samson, and we are caring for her two darling smooth puppy boys too. It is not a good time to be sick! Without further delay- here are a few pix of our Poppy babies, and also some of Melody's smooth boys- a tri and a tri headed white.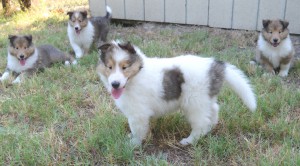 Tea, Willie, Babe, Genna L to R
Butch, Nougat, and more
*****************************************************************************************************
Big thank yous to Lea and Rhonda from me for brushing out Ms. Layla and bringing Patton back home since I was too sick to drive! Time for summer hibernation now. Lea loved the Poppy and Melody puppies sired by her boy Samson. In a couple of weeks we will be going for eye checks and start making decisions about who we want to keep as show prospects. They are all pretty babies! One thing I have to say is that the Poppy puppies are much rowdier than Melly's puppies. When Poppy was little her name was practically Poppy, NO! It looks  like her daughter Penny is cut from the same cloth.