Posted By Debbie on October 7, 2018
One of the things I've noticed about getting older is that sometimes instead of asking "Why?", I ask myself, "Why not?" I'll probably never complete my bucket list, but when one of the items on my bucket list became available recently, I had to say "Yes!"
My friend Judy Gorham must be suffering from the same senior, 'Go For It! ' attitude that I have sometimes, because this cross country trip was her idea. I have been a fan of Milas Collies for a long time- frequently praising them to my friends. Almost all my collies trace back to Macho- Ch Windhaven Stranger In Paradise. Judy's girl, Juliette, (Ch Avalar Tairis Radiant) from my breeding of Ch Milas Madam Butterfly to Cheryl Kobularcik's Macho son, Miguel, had grace and elegance that Judy wanted to perpetuate. She decided for Juliette's second and final litter she wanted to breed her to a Milas dog, because of the style, beauty and elegance found in that family.
Click on the pictures for a better look.

  Judy didn't want to ship Juliette, so she asked me if I wanted to accompany her on a road trip to New York.  It's a long drive from Texas to NY, and I had responsibilities at home. It was such a tempting offer though! I scrambled to see if I could make arrangements to go. Thank goodness my kids agreed to take care of my hubby and our dogs at home. I'm so grateful for their help.  New York- here we come!
Neither Judy or I like to drive after dark, so we tried to get in as many daylight driving hours as possible. It went pretty well except for some hellacious traffic jams in Pennsylvania. Older ladies do have to make regular pit stops- so we never quite lived up to the Google driving time estimates. It took three full days to reach our destination- MILAS COLLIES, in Thompson Ridge, NY. The scenery became more and more beautiful  as we drove northeast through Texas, Arkansas, TN, Virginia, and Pennsylvania. I think we were in West Virginia and Maryland for a few minutes too. We were a tad too early to see the spectacular fall colors, but there were hints of color changes on the sumac leaves as we drove north.
When we finally came up the the last road leading to Milas Collies, and parked near their kennel sign, it was kind of like finding the Holy Grail.  We were first greeted by their tri boy Justin, and shortly afterward by Lotta. Lotta and Lynn were so kind to let us stay with them a few days while Juliette was there for breeding.  Lynn and Lotta were very gracious and fascinating hosts. Their home is like a museum. I think they have more art than some museums. It was a treat to look at the paintings, photographs, sculptures and art objects in every room. Lynn is a very talented photographer. She has a unique way of taking photographs while riding on horseback that results in photos that look like paintings.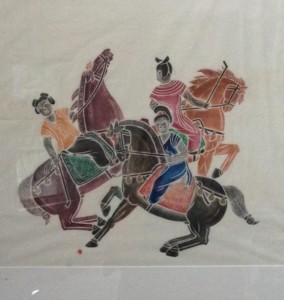 The biggest thrill for me was seeing all their dogs. Lynn and Lotta have been masterful in creating their special Milas family of collies. Macho and Fidel have passed on, but I got to see many of the legendary Milas Collies- including three of the remaining Fab Four. I was honored to see the oldsters- Cisco, Maya, and Diva, as well as Gwenda,  Carlos, River, and Fosse. It was also exciting to see their current big guns- Tyler and Diesel, and the up and coming boys, Walker, Hudson, and Charley. The younger Milas girls were knock outs too. Everywhere I looked there were beautiful collie faces, with temperaments as sweet as sugar. I was in collie heaven.
Juliette was bred to Tyler, aka, Ch Milas Walk this Way. Tyler already looks like he will be a very important sire for Milas Collies. I sure hope Juliette takes and has some healthy Tyler puppies for Judy. It seems like a very nice breeding.
My friend, Lea Bertsch took advantage of our trip to New York and sent another girl with us for breeding – Reba, aka, GCH Scalloway's Gonna Be Golden, a smooth girl bred and owned by Lea. Reba was bred to the tricolor Milas boy, Diesel, aka GCH Milas Pitch Black. I hope Reba has some pretty Milas puppies too. It will be so fun to see Milas sired puppies in Texas.
*******************************************************************************************************
Another friend of ours, Margie Blount, also took advantage of our trek to NY. Judy Gorham and I made a side trip to Clarion Collies in Deposit, NY. Margie purchased a darling blue merle puppy girl from Judie Evans, and we brought her back with us to Texas for Margie. We had a short visit with Judie and got to see some of the lovely collies of Clarion. It was a special treat to see a handsome sable male visiting there on loan from South America– Clarion Alenclaud Architect.  He is a son of Ch Windhaven Stranger In Paradise out of GCH Clarion Mirror Image. It will be exciting to see what he produces in the US.
Judy Gorham and I had a great time in NY. Lynn generously took us shopping for two days in a row to some interesting antique and artsy shops. We bought some cool souvenirs. Surrounded by the gorgeous Milas Collies, what I really wanted to bring home was one of their collies. There were no baby puppies at Milas, but there were some five and ten month old beauties. In the end, Lea Bertsch and I decided to buy a very pretty 10 month old sable merle headed white girl called Amber from Milas to co-own with Lynn and Lotta.  Amber was a stud fee puppy bred by Ray Hokanson out of his Touchstone Sweet Iced Tea, sired by GCH Milas Pitch Black.  I love Amber's big muzzle and beautiful dark eyes. I think Lea will have fun showing her when she coats up.
*******************************************************************************************************
It was a little crazy on the trip home carrying three big girls and a rowdy 10 week old puppy, but they were actually pretty well behaved. Margie's baby pup was nearly leash broken by the time we got back to Texas.  We made it back with only a few glitches. We got off track looking for a restaurant in TN on a quest to find Judy a particular pumpkin custard pie. And there were a couple of GPS malfunctions that cost us some time. But we made it back to Judy's home on the third day just before dark.  I was glad to have my son's girlfriend pick me and the pups up in Denton and bring us the rest of the way home. What a trip!
*******************************************************************************************************
You would have thought after such a long trip that I would have had enough traveling for awhile, but when I got home I found our GCH Aurealis Coldplay daughter, Milas Blue Cloud's Desire (Merci), in season. Merci is four years old and has never had puppies. With her only coming in season once a year, it was a no brainer that I had to get her bred. I had a very pretty young dog in mind, but he turned out to be a little immature yet, so I made a visit to my friend Cheryl Kobularcik's home in Missouri. By the time I got there, Merci was ready to go, and Cheryl's nine year old Macho son, Ch Cherann's No Stranger To Luv, (Miguel), was happy to take care of business. I think it should be a very nice combination. Miguel has sired numerous beautiful collies.
Now we will wait and see what results from our collie travels.  I hope to see some gorgeous collie puppies running around Texas pretty soon.