Posted By Debbie on May 4, 2018
Caring for two litters of puppies can certainly keep a person busy! Both Pearl's and Carina's puppies are weaned now and eating puppy food like piggies!  In the house I have mostly kept the two litters separated, but I decided to see how they would do if I let them play together outside. I had been a little concerned that Pearl's somewhat bigger puppies might give Carina's puppies a hard time, but that didn't happen. When I let them all outside they were more interested in exploring than beating each other up! It is so much fun to watch them take in a new world full of new sights and sounds. Here are a few pix of the pups taken from April, 29th- May 1st. They are growing and changing every day so that they already look a little different than last weekend.  CLICK ON THE PICTURES TO SEE A LARGER VIEW.
The Pearl/Landon puppies:

+++++++++++++++++++++++++++++++++++++++++++++++++++++++++++++++++++++++++++++++++++++
The Carina/BoomBoom puppies: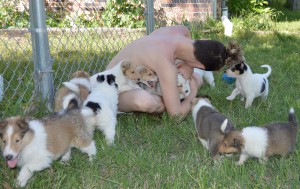 next — Eye checks!